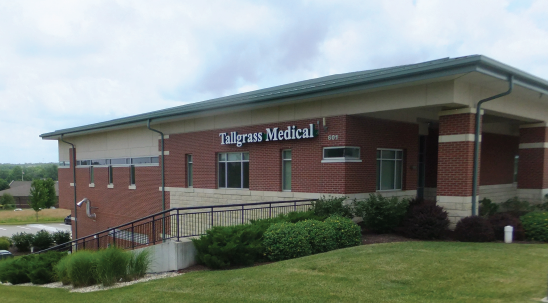 Anchor Health Properties (Anchor) has recently closed on a 27,000 square foot Class A strategic outpatient facility in the desirable Northwest Topeka area. Anchor's first investment in this strategic Midwest location, the asset was acquired through Anchor's co-managed discretionary fund with Chestnut Healthcare, and is reflective of other wholly owned fund assets with strong health system anchor tenancy, recent construction, and meaningful remaining lease term. This transaction is one of the two final direct investments for Chestnut Healthcare Fund I, which has been open for investment since 2016. Chestnut Healthcare Fund II is set to launch in Q1 2021 with a target equity raise of $100 million.
The 100% occupied, two story medical office building, situated at 601 Southwest Corporate View, features close proximity to Stormont Vail Hospital and the University of Kansas St. Francis Hospital – both of which serve as anchor tenants in the MOB.
Stormont Vail Hospital, a regional healthcare provider with 47 locations across the state, and the University of Kansas Health System, a world class medical research and care center with over 100 locations, provide a synergistic mix of services at this location, including radiology, imaging, endocrinology, primary care, and urgent care. The remainder of the facility is leased to two well established, regional medical care providers, Tallgrass Balance, Hearing & Physical Therapy, and Tallgrass Pharmacy, who provide diagnostic, rehab, and pharmaceutical services.
Constructed in 2010, tenancy has demonstrated a considerable long term commitment to this location having recently invested in capital improvements to the parking lot and an upgrade to interior and exterior LED lighting.
"As our investments team continues to focus on core and core-plus MOBs, we are very selective about the medical properties we acquire, and the Corporate View Medical Center features all of the attributes we seek," said James Schmid, Chief Investment Officer and Managing Partner with Anchor. "It is an exceptional asset with long term lease commitments from several well respected, best-in-class regional healthcare providers featuring an array of services under one roof in a prime location. We are excited to build relationships with the key tenancy as we target this market for acquisitions moving forward."
Albert Lord of Anchor's investments team led the underwriting and due diligence effort. Echoing Mr. Schmid's comments, Mr. Lord added, "The Corporate View Medical Center provides easy access for patients, visitors and staff. Situated in a highly accessible location close to where patients live, the property will benefit from the continued to shift to outpatient settings, particularly in the Topeka market."
Mervyn Alphonso, Anchor's Senior Vice President and Partner, also shared, "This is a notable acquisition as it represents Anchor's expansion into the Kansas City-Topeka corridor and the growth of our footprint in the Midwest".
On behalf of the Seller, Andrew Lawler stated, "We are pleased to hand over ownership of the MOB to Anchor. The efficiency and thoroughness of their team coupled with alignment of their mission and vision made Anchor a natural fit for this transaction. We are confident they will continue to provide exceptional asset and property management services to high quality medical tenants with a positive patient experience."
The seller was a partnership composed of Echo Development and Quivet Neck HCRE Investments. Synovus Bank provided debt financing services. Anchor Health Properties is also providing asset management and property management services at this location.