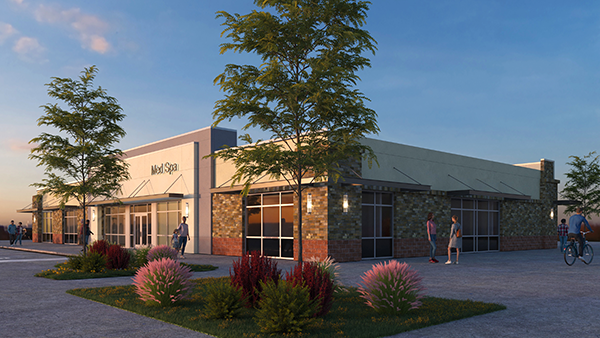 Marking a significant milestone in the Company's commitment to providing exceptional healthcare services to the community, Anchor commenced construction of an 8,250 square foot multi-specialty medical outpatient building in Westminster, Colorado. With a focus on expanding access to high quality medical care, integration of advanced technology, and enhancing the overall healthcare experience for individuals and families in the surrounding area, Anchor is serving as development manager on this project.
Part of Quail Crossing, an eleven acre, master planned, mixed use development, Anchor's development team is working alongside CHER, LLC, d.b.a Health Images to develop the build to suit diagnostic imaging facility, compised of MRI, CT, Ultrasound and X-ray services. Health Images, a joint venture between Centura Health and Envision Radiology, owns and operates 20+ outpatient imaging facilities throughout Denver and neighboring areas.
"We are thrilled to be partnered with Anchor Health Properties to build out another beautiful Health Images' location with the sole focus on delivering unmistakable quality and spectacular service through every patient and provider interaction. We are looking forward to serving the Westminster community and are thankful for our great partners, including Anchor, the City of Westminster, and the full project team, that are helping us bring this important project to fruition," said Jonathan Bourgeois, Vice President of Development with Envision.
Strategically located at 13557 N Huron Street, the facility will be designed with the patient's comfort and convenience in mind with spacious waiting areas, ample parking, easy accessibility, as well as state of the art diagnostic imaging equipment and other diagnostic tools, to provide swift and accurate diagnoses.
"With the construction commencement of this dynamic facility, we are thrilled to work in collaboration with Health Images and the City of Westminster to bring diagnostic imaging services to the community," shared Kollin Rommel, Senior Development Director with Anchor. "The multi-specialty medical outpatient building will provide cutting-edge technology while also delivering the highest level of care and convenience for patients and their families and we look forward to the positive impact it will have on the lives of those we serve."
Regionally based firms with extensive healthcare facility experience are serving as part of the project team, including Rogue Architecture, a leading architecture and planning firm challenging the status quo, AD Miller, a construction management firm providing the highest quality construction services and driven by the philosophy of "Building on Higher Ground," and Ridgetop Engineering and DLR Group serving as the civil engineer and MEP engineer, respectively.
Approximately 3,190 square feet of remaining space is available for lease. Curating a synergistic and cross-referral tenant ecosystem, complementary service lines can include primary care, physical therapy, sports medicine, ENT, gastroenterology, among others. Anticipated completion of the building is slated for late Q2 / early Q3, 2024.
Interested parties should contact Dana Talarico, President of the Talarico Company. She can be reached at 303-944-0353 or via email at dana@taibuild.com.