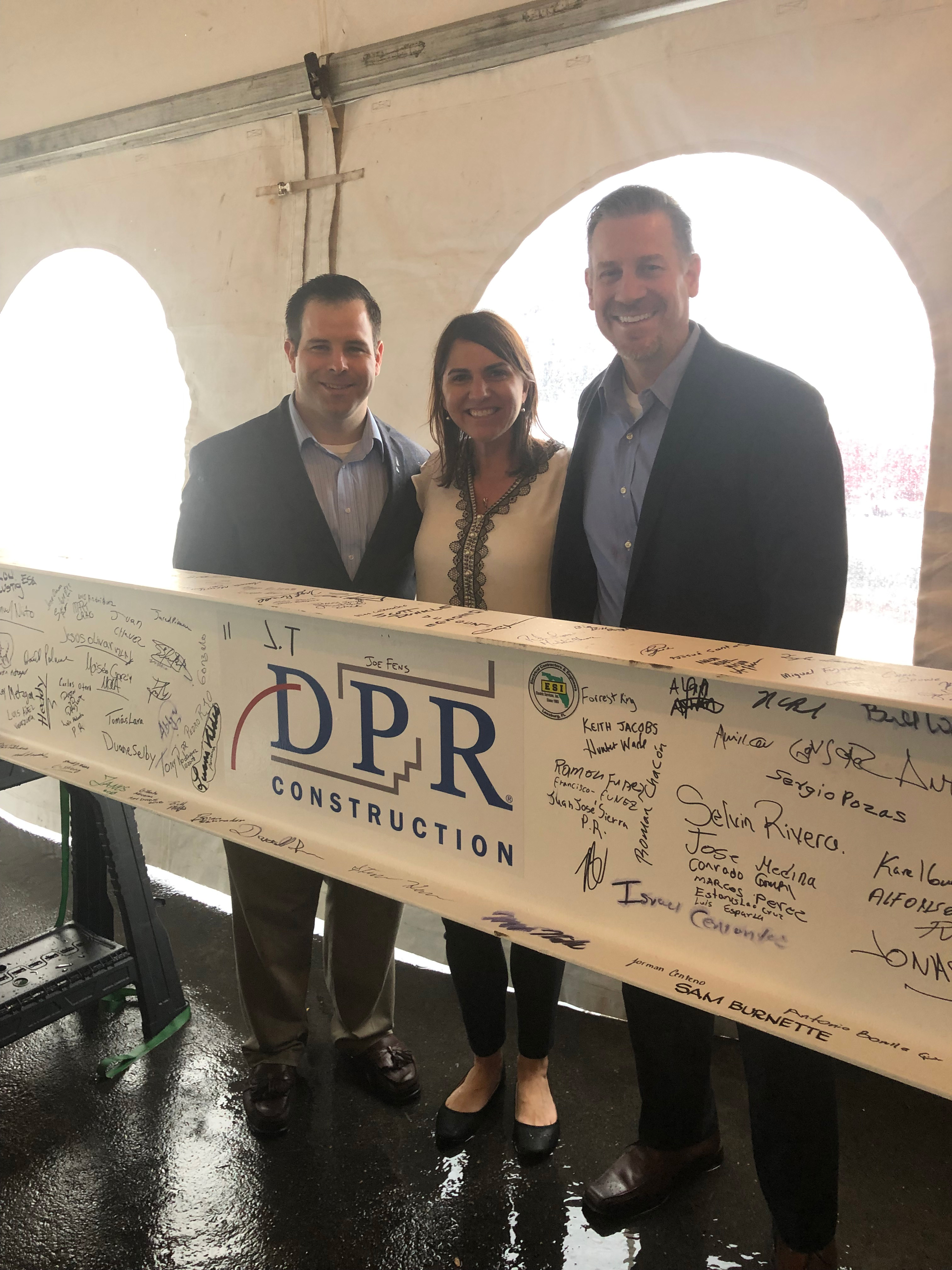 Leaders from The Villages®, The Villages Health, AHC+Hospitality, the local government, and the project team joined Anchor Health Properties to celebrate a topping out for a 410,000 square foot campus as the final beam is hoisted onto the building to signify that the structures have reached their maximum height. The campus includes The Center for Advanced Healthcare at Brownwood (CAHB), a 240,000-square-foot state-of-the-art "hospital without beds," connected to a 170,000-square-foot, 151‐room hotel complete with restaurants, a spa and conference center.
Katie Jacoby, Executive Vice President of Strategy and Development of Anchor Health Properties, said "it was a significant moment for the region and project. We're very excited to reach this construction milestone with The Villages, The Villages Health, DPR Construction, and Earl Swensson Associates. The CAHB is an excellent example of a successful project based on team collaboration, careful advanced planning, and innovative solutions. We have worked closely with the entire project team to ensure the design enhances the culture of customer service and patient engagement, while addressing the needs and desires of our client and the unique community in which its situated."
Continuing a forward-thinking clinical philosophy crafted around a new patient-centered delivery model focused on a clinical "mission control center," The Center for Advanced Healthcare at Brownwood will have a major impact on the delivery of healthcare in Central Florida spearheading a new paradigm of healthcare delivery. Slated to open in 2020, the facility will provide an integrated, seamless experience for patients and a positive experience for care givers and family members accompanying patients.
The first level of the facility will be an active environment incorporating all the conveniences that are important for a patient's visit, such as a retail pharmacy, optical shop, lab, central registration, café and an education and resource center to aid in the coordination of care for the patient, as well as other complementary amenities. A central courtyard connects the two projects with amenities, areas for respite and a covered walkway, encouraging patients to explore the campus. On the second floor there is a direct connection from the surgery center to the hotel for patients and their families who wish to arrive the night prior or do not want to travel home after surgery.
All major clinical specialists will be represented in the project, including several major centers of excellence: cancer (radiation and medical oncology), imaging (MRI, CT, PET, etc.), ophthalmology, rehab and an ambulatory surgery center. The Villages Health specialty physicians will also practice in the building, including urology, gynecology, gastroenterology, neurology, endocrinology, cardiology, pulmonary, pain management, nephrology, medical dermatology, rheumatology, orthopedics, podiatry and general surgery.
When operational in early 2020, The Center for Advanced Healthcare at Brownwood will serve The Villages residents, employees, their guests, and the surrounding communities with an anticipated 256,000 visits the first year.