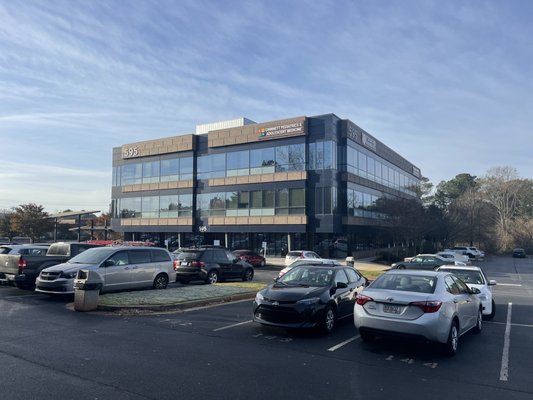 Among the largest, non-health system owners of medical office buildings in the Atlanta MSA, Anchor continues its growth across the market with the recent closing of an off market transaction involving a three story, 40,000 square foot Class A medical office building and adjacent pad ready land site slated for a subsequent Phase II MOB development. Located at 595 Hurricane Shoals Road NW in the Lawrenceville submarket of Atlanta, Georgia, the properties are strategically positioned in the medical cluster surrounding Northside Hospital Gwinnett, a leading regional hospital featuring 353 acute care beds.
The existing 100% leased MOB features anchor tenancy from Northside Health, one of the premier health systems in Georgia, and Fresenius Medical Care, the largest provider of renal care products and services nationwide. Other key tenancy includes Georgia Nephrology, Palmetto Infusion, Amedisys Home Health, and Gwinnett Pediatrics. Leveraging existing operations and creating economies of scale across the company's existing nearly one million square foot owned and managed Atlanta MSA portfolio, the new acquisition continues the strong alignment between Anchor, the existing healthcare provider tenancy, and the neighboring hospital. Planned renovations at this facility include mechanical upgrades and replacements, common area improvements, and exterior landscaping.
"This off market acquisition is a testament to Anchor's dedication to improving access to high quality healthcare services in Atlanta and the surrounding areas," shared James Schmid, Chief Investment Officer and Managing Partner with Anchor. "Utilizing the collaboration and expertise of our integrated platforms, we believe this investment and planned expansion will provide a dynamic new hub for healthcare in Lawrenceville and serve as an important amenity for the community. This was an ideal opportunity for us to expand our presence in one of our top performing MSAs and we are looking forward to bringing this exceptional project to life."
To optimize the strategic value in the properties, the off market transaction also includes a planned second phase development of a three story, 40,000 square foot medical office building on the adjacent outparcel. Through an extended due diligence period, Anchor leveraged its integrated development, asset management, and investments platforms to program and pre-lease the anticipated outpatient facility. Women's Group of Gwinnett, a subsidiary of Atlanta Women's Health Group, the largest independent OB/GYN practice in the United States, has executed a forward commitment to lease 16,000 square feet of space as the Phase II project's anchor tenant. Groundbreaking for this facility is slated for Q4 2023.
"We are delighted to announce a new development planned around the Women's Group of Gwinnett to support their mission to serve as the top OB/GYN provider in the market," added Elliott Sellers, Senior Vice President, Investments & Partner. "The new facility will allow the Women's Group of Gwinnett to expand their existing footprint in Lawrenceville and strategically co-locate with complementary tenancy. The healthcare market in Lawrenceville has meaningfully grown in recent years but the available non hospital controlled supply has remained constant, creating an opportunity for our platform to deliver highly sought after Class A medical office product."
Michael Lipton and Josh Gregory, Executive Vice Presidents and Principals with Colliers Atlanta, represented Anchor on the purchase of this asset and also represented Women's Group of Georgia as the lead tenant on the project. Brandon Wallace, Senior Vice President with Meadows & Ohly, represented the Seller. Wintrust Bank provided debt financing services. As the new owner, Anchor Health Properties will provide go forward asset and property management services at each location. Steve Hall, John Lopez, and Bo Stuart with Transwestern will provide leasing services for the properties going forward.