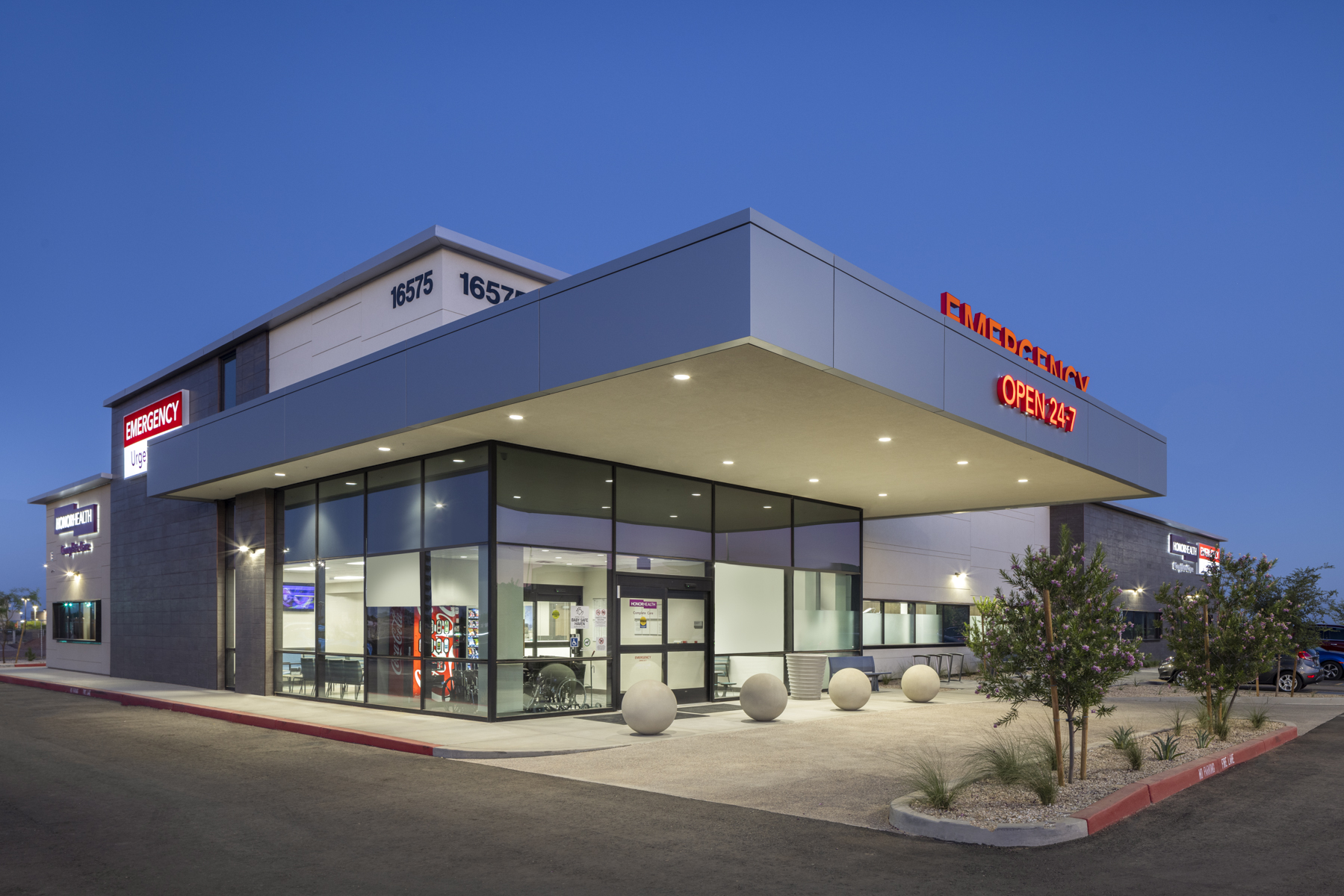 Today, Anchor announced the opening of a new 12,026 square foot hybrid stand alone emergency department and urgent care center in Surprise, Arizona.
"We have been fortunate to work with an exceptional team to welcome this new, innovative hybrid service facility to the residents of the City of Surprise," shared Sean Miller, Vice President of Development with Anchor. "The HonorHealth Complete Care facility, which combines emergency and urgent care under one roof, will help meet the increasing need for high-quality emergency healthcare services in this medically underserved market. Through our collaboration with HonorHealth, Intuitive Health, Devenney Group Architects, and JE Dunn Construction, we are excited to bring this facility to fruition and help individuals when unplanned medical needs arise."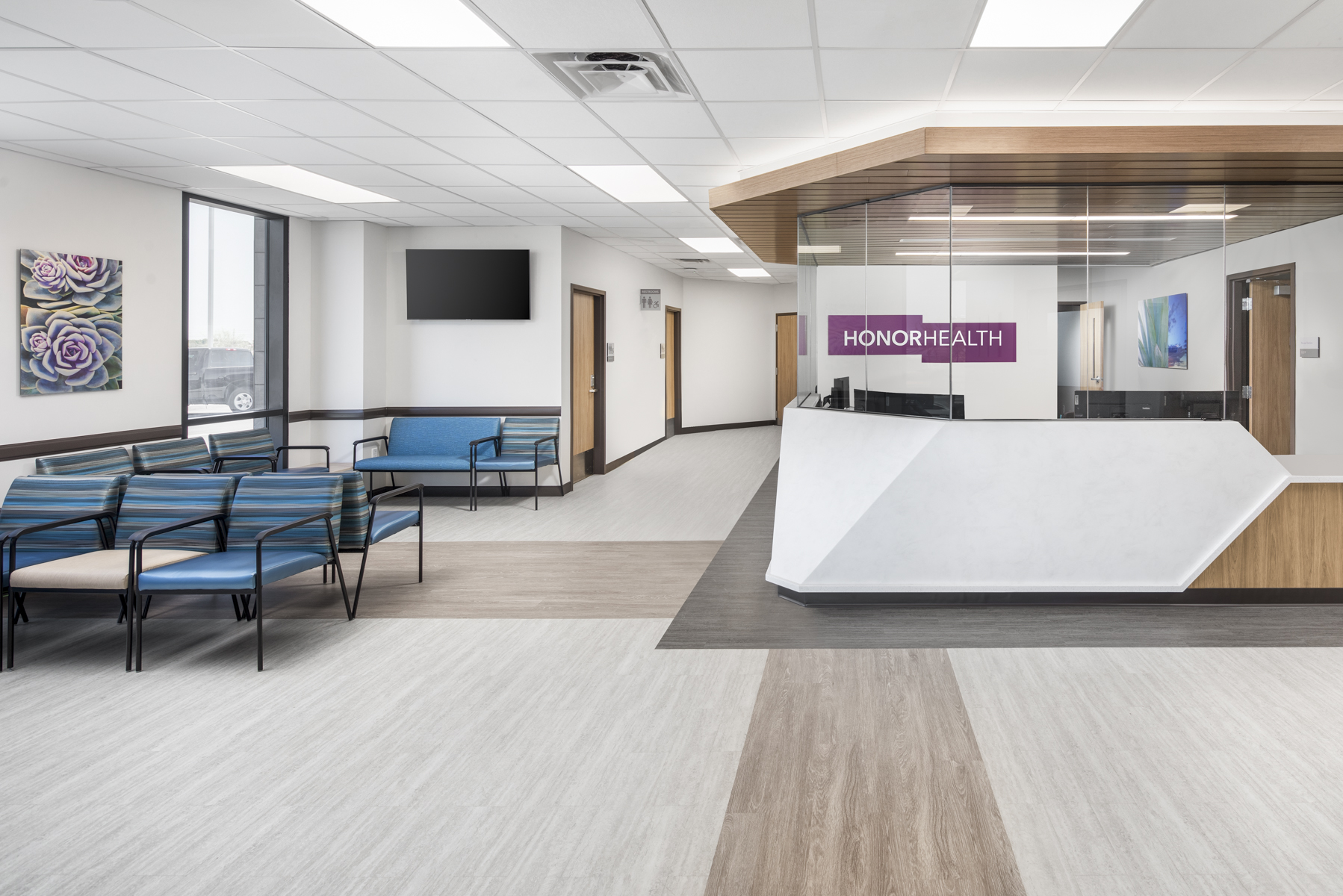 In collaboration with HonorHealth, a non-profit healthcare system serving the greater Phoenix area with six acute-care hospitals, more than 70 primary and specialty care locations, a cancer care network, research, and community services, and Intuitive Health, the pioneer of the combined ER and urgent care model, the stand alone facility located at 16575 W. Waddell Road is strategically positioned within Prasada, a newly developed retail and entertainment district.
"From selecting the market and identifying the site location to planning and executing the work, this has been a true team initiative," added Rick Murdock, Vice President of Strategic Planning, Physician Alignment, and Network Development with HonorHealth. "The project team, including Anchor Health Properties, Devenney Group Architects and JE Dunn Construction in collaboration with our HonorHealth Emergency Department operations team did an outstanding job to develop a facility designed to enhance the patient and physician experience. Even with the challenges of an ongoing pandemic and supply chain shortage, together, we were able to bring this state-of-the-art medical facility to the City of Surprise, helping to bring a higher quality of care to Maricopa County."
Focused on improving the health and well-being of the community by providing patient-centric and easily accessible care in a customer-service led environment, the HonorHealth Complete Care facility accommodates walk-ins through a 24/7 operating platform that is designed for speed of patient visits and efficient flow of provider care. The dual emergency and urgent care model, developed by Texas-based Intutitive Health in 2008, eliminates the need for patients to self-diagnose the severity of their health concerns before selecting the most appropriate medical center for care. This new patient-centered model is designed to simplify the way patients access immediate, appropriate care while also lowering out-of-pocket costs.
Mason Deal, Senior Vice president of development with Intuitive Health echoed these sentiments, "The successful completion of this project is a major milestone for the community and supports our vision to provide the highest quality of care to our patients. Through Anchor Health Properties' strong understanding of healthcare real estate development fundamentals and ability to tailor capital solutions to accomplish our short- and long-term objectives, we were able to anticipate market needs combined with the overall demands of the industry in order to expand our resources to meet the growing need for convenient, affordable healthcare services."
Programming within the facility includes an emergency department, urgent care, trauma room, CT, x-ray, triage, lab and pharmacy, and fast-track exam rooms serving lower acuity patients. An ambulance pick-up area is also available for patients who need to be transferred to a larger inpatient facility.
Devenney Group Architects and JE Dunn Construction served as the architect and general contractor respectively on this project.