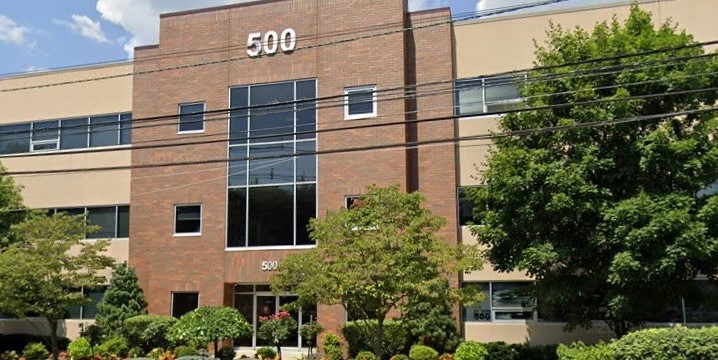 Anchor recently invested in a 37,818 square foot Class A Medical Office Building in the Englewood, New Jersey submarket of the New York City MSA. Built in 2006, the 100% occupied asset was acquired through a joint venture with institutional equity partner, Harrison Street, a leading investment management firm exclusively focused on alternative real assets. The asset represents a continued expansion of Anchor's presence in the New York City MSA; with more than 600,000 square feet owned and managed in the area, this is the second largest investment market for Anchor in the United States.
Strategically located at 500 Grand Avenue in Englewood, the facility is well positioned to provide outpatient services to a vast and affluent patient base. Physicians performing services at the building are affiliated with Columbia Presbyterian Medical Center. The property is also a beneficiary of its proximity to Englewood Health, Hackensack University Medical Center, as well as all of Manhattan's prestigious academic and research hospitals. The building resides on a long term ground lease and features a structured parking element, which is representative of the urban infill location.
Featuring highly synergistic anchor tenants Physical Medicine and Rehabilitation Center, a regional practice providing comprehensive outpatient rehabilitation services, and Patient Care Associates, a fully accredited four OR ambulatory surgery center ("ASC"), there is significant strategic alignment and cross referral opportunities between the key tenancy. This property serves as Physical Medicine and Rehabilitation's flagship location, and the multi-specialty surgery center owned and operated by Patient Care Associates is governed by a Certificate of Need (CON). Patient Care Associates has plans to expand into a fifth operating room. Justin Istenes of Anchor Health Properties' development team will oversee the construction for this expansion.
Complementary surgical and rehabilitation services provided at this location include ENT, orthopedics, pain management, podiatry, reconstructive and cosmetic, urology, sports medicine, physical therapy, and imaging. The property is also home to Columbia Orthopedics who uses this facility as a primary teaching facility and to practice and perform orthopedic surgeries in partnership with the existing tenants.
"As we focus on adding stabilized, high-quality, often off market assets with best in class regional tenancy to our owned asset portfolio, we remain excited about the opportunities to work with best-in-class regional providers, such as Physical Medicine and Rehabilitation Center and Patient Care Associates," said James Schmid, Chief Investment Officer and Managing Partner with Anchor. "With our full, robust pipeline as MOB investors, we look for ways to expand access to ASC services to meet the growing demand for outpatient surgical procedures. We are excited to grow our portfolio in metro New York City with this strong asset and continue to look to optimize the value of the real estate in ways that create advantages both now and for the long term. New York City is a difficult market to source new medical investments in given limited inventory, and this asset represents one of the best opportunities for market expansion in recent years. Anchor is also proud to develop a relationship with Columbia Presbyterian Medical Center and its related physician groups over time."
Albert Lord, who led the acquisition process on behalf of Anchor's investments team, added, "We are excited about expanding our rapidly growing footprint in New York City, with a number of recent acquisitions. This particular asset benefits from two best in class regional tenants with a long-term commitment to the location and a highly strategic ecosystem. We are looking forward to working closely with Physical Medicine and Rehabilitation Center and Patient Care Associates to provide high-quality healthcare services to the surrounding community."
Brian Schulz, Kevin Welsh, Jason Emrani, and Maria Betancourt of Newmark's Tri-State Capital Markets group collaborated with Michael Greeley of Newmark's Healthcare Capital Markets team and Robert Griffin, Co-Head of U.S. Capital Markets, to arrange the transaction and provide advisory services on behalf of the Seller. Michael Greeley commented, "Medical office buildings with stable and synergistic tenancy, especially those anchored by leading ambulatory surgery centers, are in high demand among institutional investors. We congratulate Anchor Health Properties and their partner, Harrison Street, on this strategic acquisition."
Capital One provided asset level debt financing. As the new owner of the facility, Anchor Health Properties will also provide go forward asset and property management services at this location.