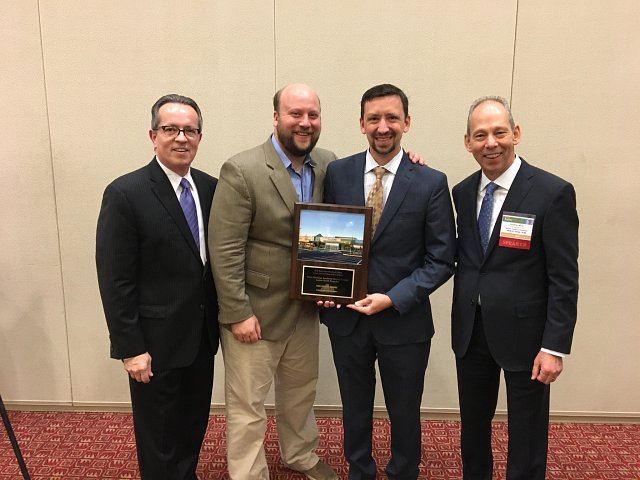 (December 8, 2016 | Scottsdale, Arizona) Members of the Anchor Health Properties' and Seavest Healthcare Properties' leadership teams were presented with the 2016 Health Real Estate Best New Ground-up Development Award (50,000-99,999 SF) at the annual RealShare HRE Conference in Scottsdale, Arizona on December 8, 2016. The awards were presented by Healthcare Real Estate Insights™, the first and only national magazine entirely devoted to covering healthcare real estate (HRE) development, financing and investment.
The 72,000 square-foot winning property, Penn Medicine Southern Chester County, opened 100% leased in West Grove, PA, in 2015.
"We are incredibly honored to be named a winner of the distinguished HREI Insights Award," remarks Ben Ochs, CEO, Anchor Health Properties. "I would like to thank our team at Anchor Health Properties as well as Seavest Healthcare Properties, Array Architects and The Norwood Company for their hard work and expertise." This is a very timely project that embraces so many of the components that are critical in today's healthcare facility marketplace- innovation, customer service, technology and being first to market.
Developed by Anchor Health Properties, designed by Array Architects and constructed by The Norwood Company, the $23 Million project is owned in a limited partnership including Anchor Health Properties, Seavest Healthcare Properties and a number of physician tenants.
The building serves as Penn Medicine Chester County Hospital's southernmost satellite location (about 15 miles south of the hospital) and provides the community of southern Chester County a comprehensive collection of quality care close to home. Located just off the intersection of two major thoroughfares (Route 1 and Route 796), the strategically chosen 45-acre site offers convenience and high visibility as well as the option for future expansion.
The retail-inspired entryway features a concierge desk, a café with outdoor seating, central registration and a common waiting room filled with the natural light from a two story waiting room. The glass-flanked "Main Street" stretching to one side of the building provides access to physician offices as well as a second story that houses a number of physician specialties and a future outpatient surgery center.
"We pride ourselves on not creating a medical office box," said Katie Jacoby, Senior Vice President of Development at Anchor Health Properties. "Our team takes a collaborative approach to fully understand the needs and culture of both the client and the local community before even beginning the development process. We met early and often with hospital representatives and members of the community to establish and define a common vision. I congratulate the team on their commitment to this vision that ultimately led to operational success and recognition in the industry."
As the anchor tenant, Penn Medicine Chester County Hospital offers diagnostic laboratory and radiology services as well as physical therapy, primary care and obstetrics and gynecology physician specialties on the ground floor of the building. Also available are ophthalmology, orthopedics, cardiology, pediatrics, otolaryngology, gastroenterology, rheumatology and general surgery physician practices that will be complemented by an outpatient surgery center expected to open at a later date. This is clearly a one-stop-shop for healthcare services integrated under one roof.
"Even before the doors of Penn Medicine Southern Chester County opened to the public, Chester County Hospital began to experience a shift in market preference in the surrounding area," explains Kathy Gorman, Senior Vice President for Planning and Strategic Marketing at Penn Medicine Chester County Hospital. "In the first year of business patient volumes exceeded projections by 20% and the hospital enjoyed an increase in both outpatient and inpatient visits from residents of the surrounding community."
The building, now in its second year of operation, is managed by Anchor Health Properties.
The HREI Insights Awards, presented each December, are the only national awards dedicated to recognizing excellence in the areas of healthcare real estate development and executive leadership.
About Anchor Health Properties
Anchor Health Properties is a national, full-service healthcare real estate development, management and acquisitions company focused exclusively on medical facilities. Anchor takes a strategic approach to navigating the extremely competitive healthcare marketplace, considering multiple angles, such as retail drivers, customer experience, branding and efficiency of the project. We develop and manage projects across the United States that respond to the new landscape of employed physicians, team-based care, the need to optimize assets and reduce duplication, and the integration of care and technology. Healthcare today calls not only for new and more efficient ways of delivering outpatient services, but also a different kind of healthcare development and management company. For more information, please visit: www.anchorhealthproperties.com.
About Healthcare Real Estate Insights
Launched in 2003, HREI was the first and remains the only national magazine entirely dedicated to covering healthcare real estate development, financing and investment. This monthly, national, business-to-business magazine offers sophisticated players the most comprehensive coverage in the industry available anywhere. Introduced in 2008, the HREI Resource Guide was the first and is still the only annual directory of healthcare real estate services. And HREI's companion website,HREInsights.com, has been totally redesigned and vastly expanded with more than 10 years of content, more than 2,000 articles and nearly 2 million words of copy, becoming the new hub for healthcare real estate news and information. For more information, please visit www.HREInsights.com.
# # #