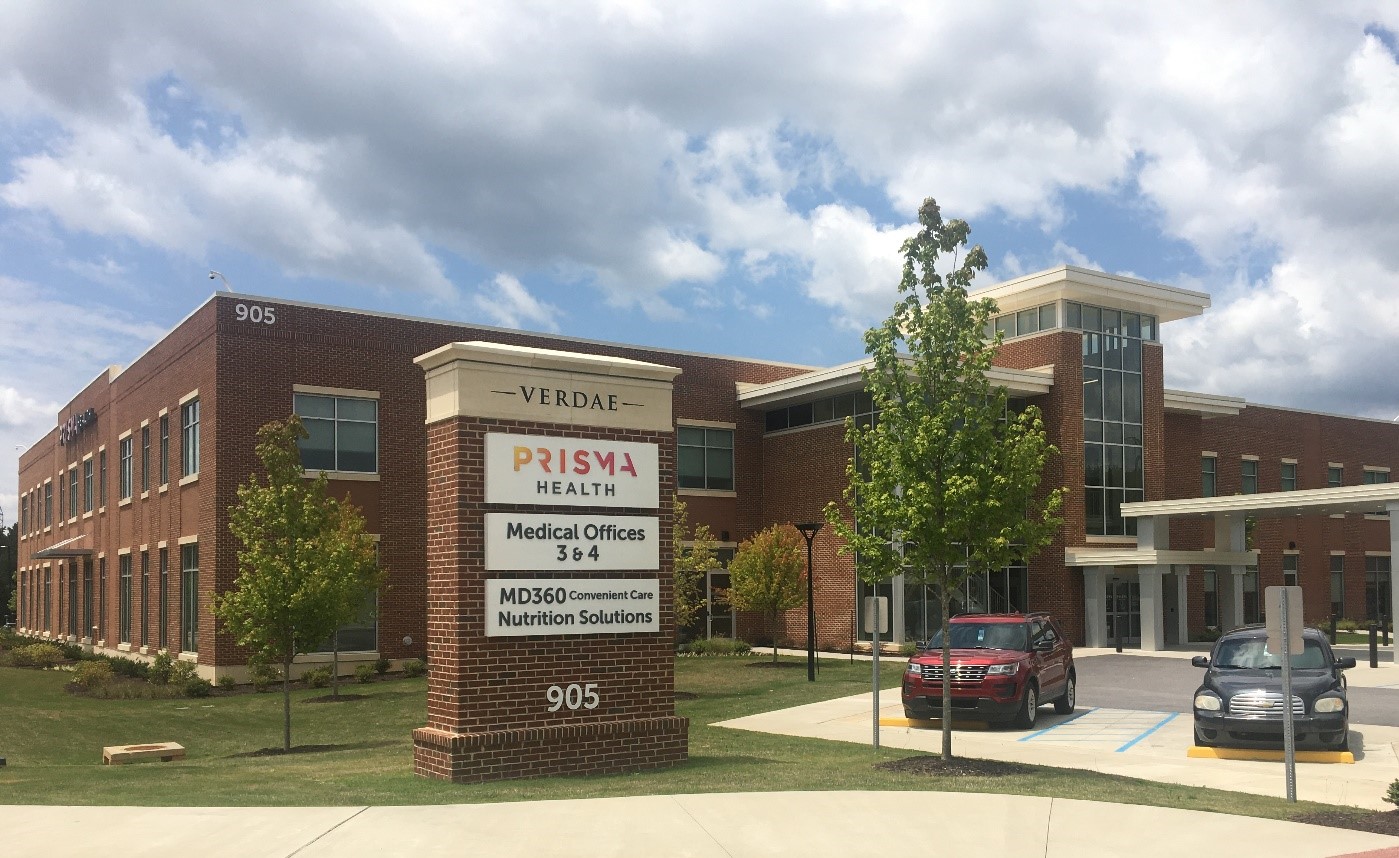 Anchor Health Properties has recently acquired the two-story, 60,600 square foot Phase II Prisma Health and Internal Medicine Associates ("IMA") Medical Office Building in Greenville, South Carolina. Anchor acquired the asset through a joint venture with an affiliate of The Carlyle Group. Anchor's co-managed discretionary equity fund, Chestnut Healthcare Fund I, also invested in the project.
Anchor's Chief Investment Officer James Schmid stated, "We are excited to have successfully completed our second strategic transaction with Prisma Health and IMA. The continued relationship between our firms is indicative of our combined ability to identify significant institutional opportunities and to bring value through creative capital solutions. As hospitals and physician groups throughout the country desire a partner with capital strength and real estate expertise, we will be supportive of developing these long-term partnerships in key target markets. At Anchor, we continue to upgrade the quality of our portfolio and align ourselves strategically with leading non-profit health systems and physician tenancy such as Prisma Health and IMA. This transaction had been contemplated for over a year and when it came time to execute we were able to move exceptionally quickly to get from contract to closing."
Located adjacent to the Phase I MOB, which is owned by the same joint venture between Anchor Health Properties and its equity investment partners, the Class A asset is 100% leased to Prisma Health, formerly Greenville Health System, on a long term NNN lease. Prisma Health specifically chose the site, 905 Verdae Boulevard, Greenville, South Carolina, for its strategic placement next to Phase I effectively creating an outpatient campus serving its patient base across the broader Carolinas. Future medical office expansion is also contemplated within the Verdae master planned campus.
"We are delighted to expand our presence in the Greenville area and continue our partnership with the incredible team at Anchor Health Properties," said Carmel West, Administrator with IMA. "We have tremendous respect for Anchor as healthcare real estate investors and asset managers and appreciate the trust and confidence they have placed in us in supporting our continued growth. The physicians of IMA enjoyed working with Anchor on the sale of our Phase II Verdae Property. We continue to be impressed with their planning and responsiveness especially given the challenges we faced to close this transaction in record time."
As one of the top health systems in the region, the newly formed outpatient campus serves as an extension of Prisma Health's main hospital facilities by offering a comprehensive line of outpatient services, including the only surgery assessment center in the health system's network. Additional services provided in the Phase II MOB include, gastroenterology, gynecology, and bariatrics.
Furman Capital Advisors provided seller advisory services and debt financing was provided by First Horizon and JLL.
Peter Couchell, Managing Director with Furman Capital Advisors, also shared, "We are grateful for the opportunity to have worked with the professional team at Anchor Health Properties, IMA, and Prisma Health. The collaboration and hard work of everyone at the table helped to create a warp speed seemingly effortless transaction. We look forward to future endeavors with these dynamic partners."
Anchor Health Properties will also serve as asset manager at this facility.
The Carlyle Group invested in the joint venture through its Carlyle Property Investors Fund, an open-ended real estate fund that invests in core-plus real estate properties in the United States.